40 Years Ago: Pete Townshend and Keith Moon Join Eric Clapton On Stage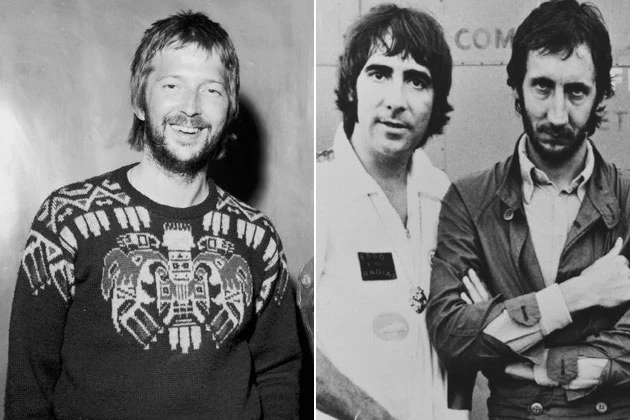 From the "with friends like these" files, Ultimate Classic Rock tears a page from Eric Clapton's lengthy tour diary to look back on the night Keith Moon and Pete Townshend of the Who joined him on stage — and left Clapton with a toy ukulele broken over his head.
On tour behind the recently released '461 Ocean Boulevard,' Clapton and crew arrived in Atlanta on Aug. 1, 1974, for an evening at the city's Omni Coliseum. Ticketholders were treated to a set list that included 'Let It Grow,' 'Willie and the Hand Jive,' and 'Badge' — plus the surprise addition of Clapton's famous friends Moon and Townshend, who came out to add a little extra star power to 'Layla' and 'Baby, Don't You Do It.' Moon reportedly sang along during 'Little Queenie,' and when it was all over, Townshend is said to have smashed a plastic ukulele belonging to drummer 'Legs' Larry Smith over Clapton's noggin.
If Clapton was bothered, he didn't let it keep him from inviting the duo back the next night in Greensboro, announcing his first guest by telling the audience, "And tonight, for your pleasure or my pain, one of the two, the great Pete Townshend." Moon reportedly followed by forcing Smith out of his kit. Unfortunately, the trio didn't make a habit out of playing on stage, but below, you can watch a 1989 interview with Clapton and Townshend — no ukulele in sight:
Eric Clapton and Pete Townshend 1989 Interview
Subscribe to 1240 KLYQ on
Source:
40 Years Ago: Pete Townshend and Keith Moon Join Eric Clapton On Stage