That Time a New Mexico Radio Station Played 'Stairway to Heaven' for 24 Hours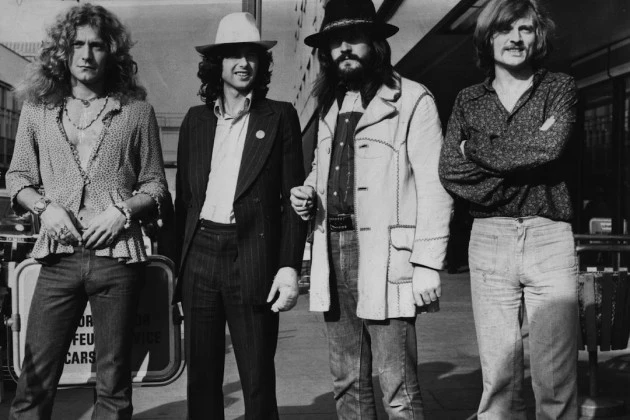 Lots of people love Led Zeppelin's "Stairway to Heaven" — it isn't a beloved staple of classic rock radio for nothing — but on Jan. 23, 1991, KLSK-FM in Albuquerque, N.M., took that love to absurd new heights.
As part of a stunt conceived to draw attention to the station's recent format switch from new age to classic rock, owner and GM John Sebastian decided to spin "Stairway" for 24 straight hours, perplexing listeners and stirring up enough off-the-wall rumors that local police were dispatched to the station. Twice.
According to the Music History Calendar, "Police showed up with guns drawn after a listener reported that the DJ had apparently suffered a heart attack, later because of suspicion that — this being eight days into the Gulf War — the radio station had been taken hostage by terrorists dispatched by Zeppelin freak Saddam Hussein." But in the end, all that consternation was awfully good for ratings.
"I think everything in there sounds correct. I can't think of anything that isn't accurate," Sebastian said in a phone interview with Ultimate Classic Rock. "I remember it vividly." Of the police coming to the station, Sebastian recalled, "I think they did show up twice. I don't remember exactly what all the rumors were. There were lots of them, which was the whole idea, to get word of mouth spread — and it certainly worked."
The format change was necessitated by the fact that while KLSK had a small, dedicated audience as a New Age station, Sebastian said "it did pretty well, but it just wasn't making that much money."
What they needed — aside from a playlist overhaul — was the kind of incident that would put them on the map. The "Stairway" stunt, according to Sebastian, "spread the word so rapidly that even though we had like half a signal compared to the other Albuquerque stations, we went from nowhere to second in the market within just a couple of ratings periods. It really helped to get us off the ground, just by doing something as radical as playing "Stairway to Heaven" over and over again."
Led Zeppelin Albums Ranked Worst to Best
Source:
That Time a New Mexico Radio Station Played 'Stairway to Heaven' for 24 Hours